Faith in Action, Hope for Oakland
OCO: Building Community
For more than 35 years OCO has remained dedicated to organizing the people of Oakland into powerful leaders for social change. Guided by our ecumenical faith values and belief in democratic participation, OCO is an organization that works to unite people across diverse communities in order to collectively improve the quality of life for families, especially those in greatest need. OCO seeks to reweave the fabric of our communities by calling upon each individual to transform the pain of injustice by joining others to develop solutions that result in permanent and positive change in our neighborhoods, schools, and across the city.
OCO is a federation of 50 congregations, synagogues, and allied community organizations representing 40,000 families from East, West and North Oakland. Our members include African American, Latino, Asian and Caucasian families from Baptist, Catholic, African Methodist Episcopal, Reformed Church, Christian Methodist Episcopal, Jewish, non-denominational, Presbyterian, United Methodist, Lutheran, and Church of God in Christ churches. People of all faiths participate through neighborhood organizations, charter and public schools, village centers, agencies and labor unions, demonstrating a democratic power that strives to make equal the voice of the voter and the actions of the elected.
OCO is an independent, non-partisan organization that is an affiliate of the PICO National Network. The one thousand churches, synagogues and mosques across the United States that participate in the PICO Network represent more than sixty religious denominations and traditions and more than one million families. PICO's federations reach from Florida to Alaska and are increasingly working in suburban and rural areas, representing the regional and political diversity of the United States.
Through PICO we participate in the PICO California Project, which unites the 19 sister organizations in California to work on local, regional and statewide issues. Our affiliation with PICO and the PICO California Project offers OCO leaders access at the state and national level regarding quality of life issues in their own communities.
OCO: Oakland for Everyone
We envision Oakland as a safe and vibrant city united in our ethnic, religious and economic diversity. We see Oakland as a city where all children and families have equal access to a first rate education; affordable housing and home ownership; skills training and good employment opportunities; quality health care; and safe, clean streets in vibrant neighborhoods. Our vision for Oakland is guided by our belief that dignity, respect and equality are a fundamental right of every family in this country.
For more than 35 years, OCO has built its power through the work of thousands of leaders from member congregations that share a common vision of a better Oakland for everyone. We are proud of the many families who have made a permanent difference in the way people live and work. We are grateful for their hard work, and want to share our history as we reflect on our continued work together to transform obstacles into opportunities for all people.
OCO Mission: Leadership Development
For more than 35 years, OCO has been the gathering place, the training ground, where thousands of people have put their faith into action and become known leaders in Oakland, powerfully enacting the true meaning of democratic life. OCO leaders have learned how to listen to the pain and concerns of their neighbors, have courageously worked to bring people together, and have taken repeated risks when speaking out for needed change in public forums. The voices and victories of our leaders are well-known from the offices of Oakland City Hall to the Halls of Congress.
Method: Congregations and Schools Organizing Communities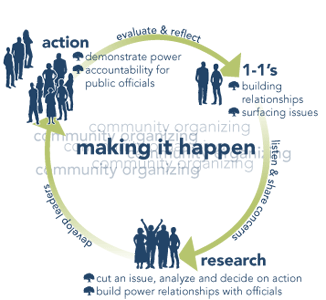 For the past twenty-five years, OCO has employed a method of faith-based community organizing shared across the PICO Network. Through this method, congregations of all denominations and schools serve as the institutional base for OCO leaders. Core leadership teams are developed in each congregation and school. These leaders do extensive one-to-one listening campaigns with families in the community. They listen to the needs of each family and approach the issues that emerge from the perspective of the people living in the neighborhood. Leaders begin to develop possible solutions to these issues through research meetings with institutional leaders, whether from government, non-profit agencies, or businesses. These officials come into a partnership with the community to develop policies or dedicate resources that are needed to address issues identified by the people. Public officials are then invited to a large meeting, called an action, where they are asked to make commitments to the community to help bring about the needed change. It is in action that the community experiences unity and exercises the power of their organization.
After every activity, OCO leaders evaluate their efforts. With the perspective of faith, they reflect on their own development as leaders, how well they have engaged the larger community, whether their relationship with institutional leaders has improved, and if concrete results are being seen. The factor bonding people of such diverse cultural, language and religious experiences is not the constant work on social and political issues, but the relationships that they develop, and the vision and values they share with one another.
Using this method, OCO has developed thousands of volunteer leaders over the last 35 years though Local Organizing Committees (LOCs) at their church or school. This community organizing model has been effectively used in more than 40 congregations and now is being utilized by many schools. Thousands of people have taken effective action in their neighborhoods on issues ranging from new stop signs to new affordable housing. Many OCO leaders remain involved year after year because they know and trust one another and care deeply about their families and community.
OCO has built its civic power at a citywide level and has been called the most powerful grassroots organization in Oakland.
Values: Faith in Action
OCO leaders embrace common values from diverse faith, racial, political, and social traditions. We share these common beliefs:
That all people are precious, embodying a dignity provided by the Creator.
Because people are precious, each deserves to live in a world where all people are treated justly.
Justice is made real when we integrate the spiritual and social dimensions of our lives.
Organizing is a tool that brings together the spiritual and social aspects of our lives in concrete ways, creating a world of greater dignity and justice for all families.
History: More Than 35 Years of Success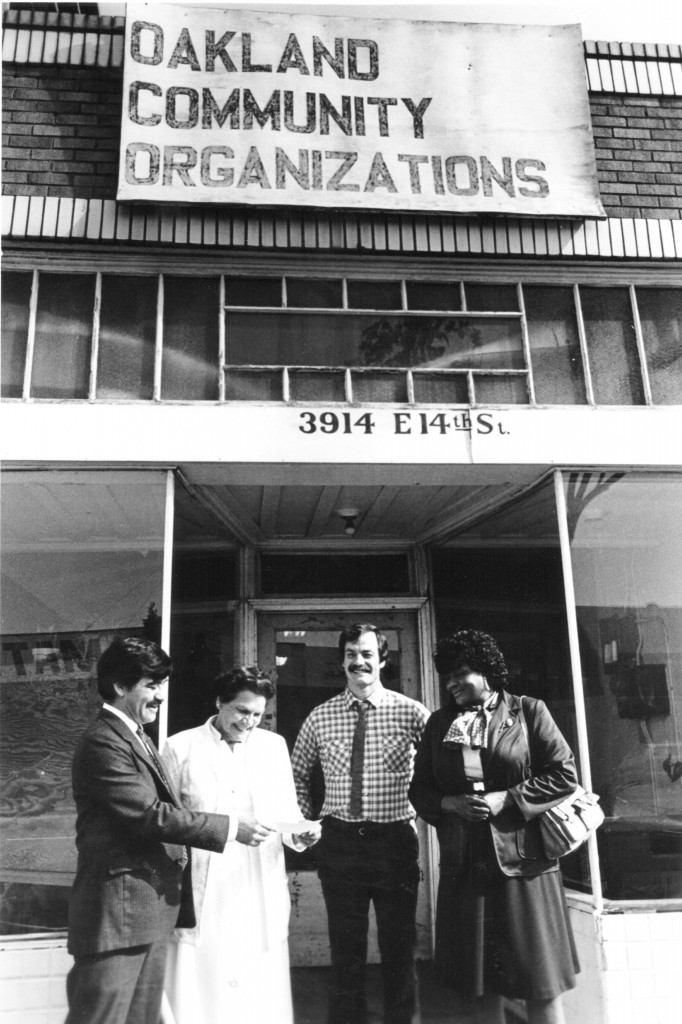 In 1972, Oakland Community Organizations was established as the organizing project of PICO founders Fr. John Baumann, S.J. and Fr. Jerry Helfrich, S.J. From 1972-1977, Baumann and Helfrich focused on building neighborhood organizations in West Oakland, San Antonio/Fruitvale, Central East Oakland from 50th to 80th Streets, and the Elmhurst neighborhood. Neighborhood after neighborhood worked on issues like junkyards, stray dogs, prostitution, zoning, crime and vacant housing. At that time the 1,100 vacant houses in Oakland  brought neighborhood leaders together and planted the seeds of OCO. On May 14, 1977 over 1,000 people gathered at Merritt College to officially give birth to OCO, articulating the faith values that today are the foundation of our organizing principles. We thank Fr. John Baumann, Executive Director of PICO for bringing organizing to Oakland.
For the next eight years, OCO operated successfully as a neighborhood based organization, bringing people together around local and citywide issues. During this period, major victories were achieved:
Housing Rehab programs renovated 400 once-vacant houses.
Port of Oakland initiated a minority hiring program.
Developed over 100 units of housing affordable for first time homeowners.
Supported the city's implementation of the "Hire Oakland First Program" that is still in existence today.
We thank Waymer Thomas, Fran Matarrese, Kay Gozony, Frank Gilbert and Herman McGaugh who served as OCO Presidents for their leadership in this formative stage. We also thank Scott Reed for his service as OCO Executive Director.
In 1985, with the support of PICO, OCO began the transition from a neighborhood organizing model to a congregation community-based model of organizing. Using this model, OCO developed strong local organizations in seven congregations. In 1987, OCO gathered over 2,000 people for our first citywide action, launching a campaign to address Oakland's drug epidemic. Our accomplishments in the l980s included:
Police established the "Beat Health Unit." Operating throughout the city, the Beat Health Unit quickly demolished its first crack house and forced the closing of 1,000 more.
The city, county, and state adopted new enforcement, treatment and prevention measures to address the drug epidemic.
OCO was formally recognized by the White House for its city-wide anti-drug campaign.
Mayor Harris signed "Covenant with OCO" creating community-based policing and opening the first police substation for rapid drug enforcement.
We thank Diane Ingram and Joanna Lougin who served as OCO Presidents in this period of transition. Ron Snyder served as OCO Executive Director from 1984 to 1990.
In the 1990s, OCO leaders turned their attention to the root causes of poverty in Oakland and focused on developing sustainable solutions for complex problems, organizing between 2,000 and 2,500 people for major city-wide actions. Our influence expanded as new churches became members of OCO. Highlights of activity included:
Formation of Aviation High School, a pilot school-to-work transition program, which prepared high school students for real jobs in the transportation field.
Gaining $6.6 million in new street lighting, creation of the first charter school in Oakland, and implementation of a major truancy reduction program.
Through the Hope Campaign, secured class size reduction to 20 students in kindergarten through 3rd grade and 15 homework centers serving 600 students.
Brought a new grocery store to West Oakland and $8.2 million to revitalize Gateway (Acorn) Shopping Plaza that also employed 50 local residents.
Organized and opened three charter schools serving 800 students.
We thank Henry Hemphill, Odest Logan, Rev. Ken Chambers, and Lillian Lopez who served as Presidents or Co-Chairs of OCO. We also thank Jim Keddy for his service as OCO Executive Director from 1991 to 1995.
At the beginning of 2000, OCO researched and developed one of the only community-driven school reform efforts in the United States. However, other issues were not left behind. Results so far in this millennium include:
Developed and passed the New Small Autonomous Schools (NSAS) Policy leading the to formation of 39 new small schools.
Supported local and state bond measures resulting in construction of five new school facilities.
Supported the formation of 10 new small charter schools.
Saved 10 schools from reconstitution under No Child Left Behind mandates to become new small schools.
Worked with education partners to shape school district central administration redesign.
Helped secure the passage of Measure Y, a parcel tax measure providing $16 million annually for violence reduction and community policing.
Led Oak-to-Ninth Community Benefits Coalition to secure agreement for 450 units of affordable housing and 300 new union apprentice construction jobs.
Introduced Inclusionary Zoning measure to Oakland.
Supported Measure A, a county sales tax increase bringing in millions of dollars each year to increase health care access through clinics, public hospitals and health insurance.
Organized legal support forums for 1000s of immigrant families seeking citizenship.
Supported family oriented immigration reform legislation.
Registered new voters and involved infrequent voters on local and state ballot measures in 2004 and 2006 elections.
We thank Rev. Ken Chambers, Bea Bernstine, Sandra Frost, and Dr. George Cummings who served as Co-Chairs of OCO. Ron Snyder served as Executive Director of OCO from 1995-2012.
PICO: A Network that Helps Us Build Community and Power
OCO is a proud member of the PICO National Network. PICO connects sister organizations through 150 cities in 17 states, providing the opportunity for people and congregations to translate their faith into action. One of the largest community-based efforts in the United States, more than 50 religious denominations and faith traditions are part of PICO. As a member of the network, OCO receives consultation and technical support. Our staff and leaders receive training and professional development every year through PICO's week-long national leadership training retreats. Many of the concerns of OCO families can only be effectively addressed at the state and national level. Thanks to Fr. John Baumann and the PICO staff who serve us so effectively.
PICO California brings the voices and concerns of regular Californians to the statewide policy arena. PICO California is made up of 19 congregation-based community organizations representing 350 congregations and 450,000 families across the state. PICO California Project campaigns have gained results that include:
Winning several campaigns bringing hundreds of millions of dollars to improve and expand health insurance programs, clinic services, and health outreach efforts.
Engaging strategies to provide health insurance to all children in our state.
Gaining $25 million of school construction bonds to create an incentive for school districts to build new small high schools.
Funding for the Parent/Teacher Home Visit Project to more than 600 schools.
Supporting Proposition 1C which will generate $2.8 billion in funding for emergency and affordable housing programs.
Leaders and staff diligently working to increase voting throughout our state.
Winning $50 million for after-school programs, growing to $85 million.
Thanks to Jim Keddy and the PICO California Project staff who bring us together for effective work.
PICO New Voices: PICO launched a national initiative in 2004 to help bring the voices and values of ordinary families into the debate over national policy. Efforts to date include:
Faith leaders hailed passage of the Senate and House Budget resolution, which provide $50 billion in new funding for reauthorization of the State Children's Health Insurance Program (SCHIP), as a major step on the road to providing affordable health coverage to all children in the United States.
Faith leaders supported PICO sister organizations in New Orleans and the Gulf Coast to urge timely disaster relief.
Thank you to Scott Reed and PICO New Voices staff who have led this initiative.