---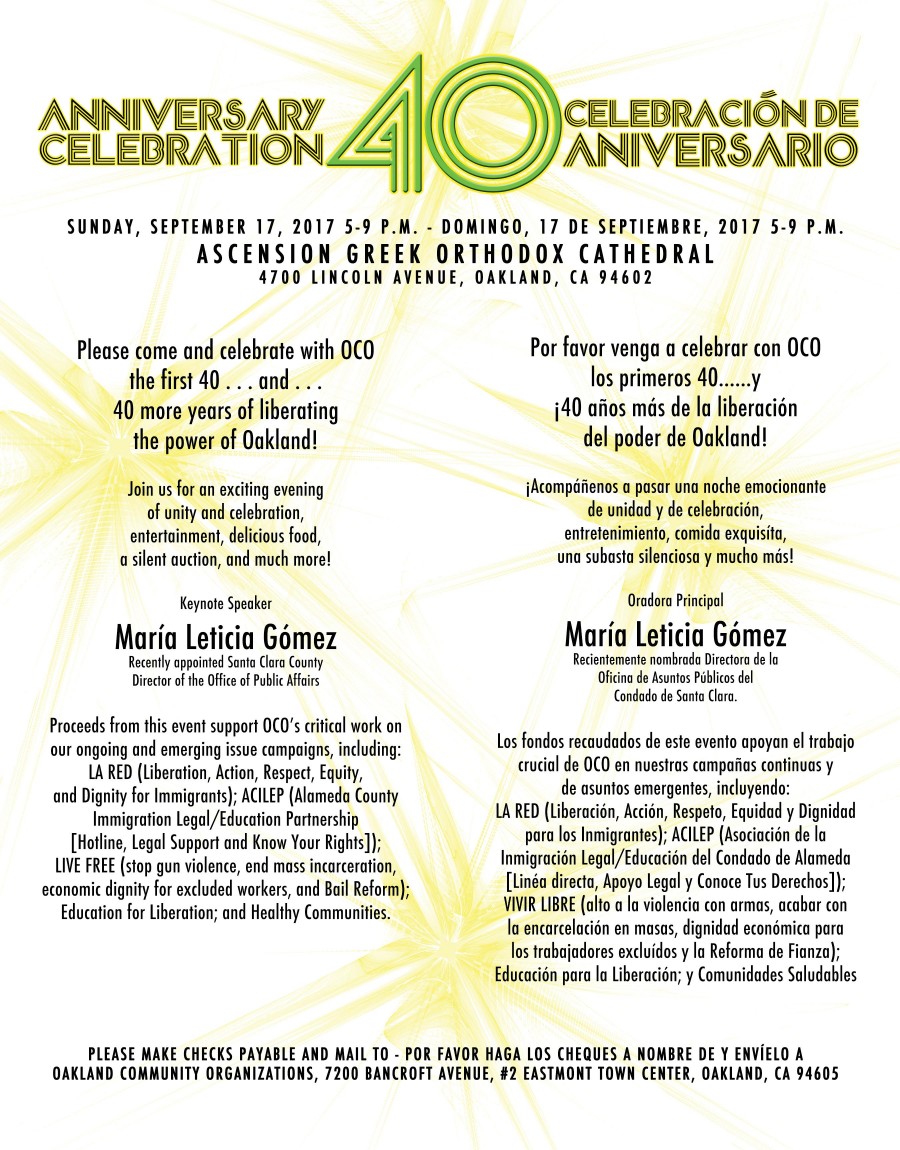 For more information, and/or to make a purchase: https://oco40.eventbrite.com -or- contact Barbara Lafitte-Oluwole at (510) 639-1444 x301 -or- email lafitteolu@oaklandcommunity.org
---
40th Anniversary Keynote Speaker
María Leticia Gómez
Communicator Extraordinaire

Over the course of María Leticia Gómez' remarkable career and experiences, the hallmarks of her character are clear: commitment to excellence, high aspirations, strong and deep connections to her community and heritage.

Before coming to her current post as director of the County of Santa Clara's Office of Public Affairs, Gómez was the respected news anchor and reporter at the Bay Area's Univision channel, KDTV-14, who brought a trusted voice and valued information to many Latino households for nearly two decades.

Gómez' numerous journalism accolades include 18 Emmy Awards and seven Mark Twain Awards from the Associated Press. She has covered a wide range of breaking news, political, international and human-interest stories—from the 9/11 terrorist attacks and presidential elections to interviews with Latin American presidents and California governors.

Before her 18-year career at the Bay Area's Univision station, Gómez was an anchor and reporter for Univision in New York City; a news correspondent for the Spanish newspaper El País; Washington, D.C., correspondent for Canal de Noticias NBC; and general assignment reporter for TV Azteca and Univision in Mexico City.

I have a passion for telling stories and informing the community."

Like so many others whose stories she told professionally for so long and so well, the tale of Gómez' personal journey is both courageous and inspirational.

She was four years old when her family moved to Mexico City from her native Argentina, fleeing that country's military dictatorship. At 13, she relocated with her family to Chevy Chase, Maryland, after her mother, who worked for the United Nations, got a job offer in Washington, D.C. Before their move to the United States, no one in the family spoke English. Gómez defied school counselors' advice to drop back a grade or two to ease the transition; she received her high school diploma just four years later. Following in the footsteps of her twin older brothers, she went on to the University of Maryland, where she earned a double degree in French Literature and Sociology. She received her master's degree in Sociology from the George Washington University. Gómez was conducting interviews and field research for her master's thesis on the Zapatista rebellion in the Mexican state of Chiapas when she discovered her passion for journalism.

Some of Gómez' off-camera achievements you may not know about: as a former President of the San Francisco Local of the American Federation of Television and Radio Artists (AFTRA) and Vice-Chair of the National Broadcast Steering Committee, Gómez worked with union leaders and colleagues to improve the wages and working conditions of AFTRA members nationwide; to protect collective bargaining agreements; and to monitor and embrace the implementation of new technologies in the newsroom. As a member of the AFTRA team, she helped negotiate the merger with the Screen Actors Guild (SAG), which led to the formation of a new, stronger union: the Screen Actors Guild‐American Federation of Television and Radio Artists (SAG-AFTRA).

Gómez joined the County of Santa Clara Office of Public Affairs on September 1, 2017. As director, she leads a team of communications professionals that empower and connect residents with the multiple county services that are available to them.

Gómez speaks English, Spanish, French and Italian. She has played the violin since age 7 and studied music at various conservatories. She is married to Juan Carlos Guerrero, a fellow journalist and human rights advocate.
---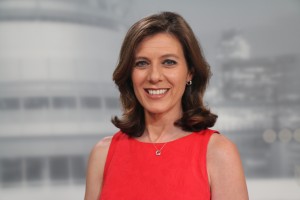 Ponente Principal del 40º Aniversario
María Leticia Gómez
Comunicadora Extraordinaria

Durante el transcurso de la carrera y las experiencias notables de María Leticia Gómez, los puntos distintivos de su carácter son claros: el compromiso a la excelencia, las altas aspiraciones, las conexiones fuertes y profundas a su comunidad y su herencia.

Antes de llegar a su puesto actual como directora de la Oficina de Asuntos Públicos del Condado de Santa Clara, Gómez era la presentadora de noticias y reportera respetada en el canal Univisión del Área de la Bahía, KDTV-14, quien brindó una voz de confianza e información valiosa a muchos hogares latinos por casi dos décadas.

Los numerosos elogios de Gómez en el periodismo incluyen 18 Premios Emmy y siete Premios Mark Twain del Associated Press.  Ha cubierto una amplia gama de noticias de última hora, historias políticas, internacionales y de interés humano–desde los ataques terroristas del 9/11 y las elecciones presidenciales hasta las entrevistas con los presidentes latinoamericanos y gobernadores Californianos.

Previo a su carrera de 18 años en la estación de Univisión en el Área de la Bahía, Gómez fue presentadora de noticias y reportera para Univisión en la Cuidad de Nueva York; una corresponsal para el periódico español El País; una corresponsal para Canal de Noticias NBC; y reportera de asignaciones generales para TV Azteca y Univisión en la Ciudad de México.

Tengo pasión por contar historias e informar la comunidad."

Igual que todas las personas cuyas historias contó ella profesionalmente por tanto tiempo y tan bien, la historia del viaje personal de Gómez es a la vez valiente e inspiradora.

Tenía cuatro años de edad cuando su familia se trasladó a la Ciudad de México de su nativa Argentina, huyendo la dictadura militar de ese país.  A los 13 años, se mudó con su familia a Chevy Chase, Maryland, después que su madre, quien trabajaba para las Naciones Unidas, recibió una oferta de trabajo en Washington, D.C.  Antes de llegar a los Estados Unidos, nadie en su familia hablaba inglés.  Gómez no acató los consejos del consejero escolar de quedarse atrás un grado o dos para hacer más fácil la transición; recibió su diploma de la preparatoria apenas cuatro años más tarde.  Siguiendo en los pasos de sus hermanos gemelos mayores, siguió a la Universidad de Maryland, donde sacó una doble licenciatura en Literatura Francés y Sociología.  Recibió su maestría en Sociología de la Universidad George Washington.  Gómez estaba realizando entrevistas e investigaciones de campo para la tesis de su maestría acerca de la rebelión Zapatista en el estado mexicano de Chiapas cuando descubrió su pasión para el periodismo.

Algunos de los logros fuera de cámara de Gómez que tal vez no conocen: como previa Presidente del Sindicato de San Francisco de la Federación Americana de Artistas de Radio y Televisión (AFTRA por sus siglas en inglés) y Vicepresidente del Comité de Supervisión de Emisoras Nacionales, Gómez trabajó con los directores del sindicato y colegas para mejorar los salarios y condiciones laborales de los miembros de AFTRA nacionalmente; para proteger los acuerdos de negociación colectiva; y para vigilar y aceptar la implementación de nuevas tecnologías en la sala de prensa.  Como miembro del equipo de AFTRA, ayudó a negociar la integración del Sindicato de Actores de Cine (SAG por sus siglas en inglés), lo cual resultó en la formación de un nuevo sindicato más fuerte: el Sindicato de Actores de Cine y la Federación Americana de Artistas de Radio y Televisión (SAG-AFTRA).

Gómez se integró a la Oficina de Asuntos Públicos del Condado de Santa Clara el 1º de septiembre, 2017.  Como directora, dirige un equipo de profesionales en comunicación que otorgan el poder a los residentes y los conecta con la multitud de servicios disponibles a ellos.

Gómez habla inglés, español, francés e italiano.  Ha tocado el violín desde la edad de 7 años y estudió música en diferentes conservatorios.  Está casada con Juan Carlos Guerrero, también periodista y defensor de los derechos humanos.
---

---
For more information, and/or to make a purchase: https://oco40.eventbrite.com -or- contact Barbara Lafitte-Oluwole at (510) 639-1444 x301 -or- email lafitteolu@oaklandcommunity.org
If you wish to donate an item for our Silent Auction, please contact: Rev. Damita Davis-Howard (510) 915-2651 -or- ddavis-howard@oaklandcommunity.org