California becomes a "sanctuary state," limiting who local and state law enforcement can detain and transfer on behalf of ICE
The hard work and prayers of OCO/PICO California families, congregations and schools throughout the state paid off on October 5 when Governor Brown signed SB 54, the California Values Act, into law. The act takes effect in January 2018 and will protect thousands of vulnerable immigrant families from deportations.
Among the law's key provisions:
 strict limits on who state and local law enforcement agencies can hold, question and transfer at the request of    

Immigration and Customs Enforcement (ICE) agency officials.

 prevents local law enforcement officers from being deputized as immigration law enforcers

 prohibits local law enforcement officers from asking for the legal status of detained individuals

 ensures immigrants are notified about their civil rights before ICE can interview them
"While SB 54 is not perfect, it establishes a critical new firewall between immigrant families and the federal deportation machine, since 60% to 70% of all deportations in California originate in our jails and prisons," says Joseph Tomás Mckellar, PICO California co-director. "SB 54 is more than just a bill—it is a moral statement about the sanctity of families, redemption, mercy, and second chances for immigrants and citizens alike."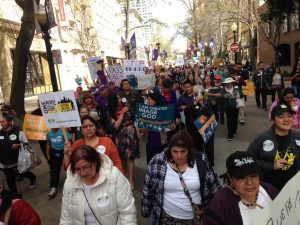 WHAT WE CAN DO: PICO California urges OCO and other of its federations across California to:
 Educate families in our congregations and communities about the new protections and rights SB 54 provides. Click here

for overview of SB 54's protections.

View the act's actual language

here.
 Protect SB 54

by ensuring local law enforcement agencies fully implement the law by a) training their officers on SB 54's new provisions, and b) reporting any violations of SB 54 to the public and California Attorney General Xavier Becerra.

 Prepare ourselves

for legal attacks from the Trump administration and a potential 2018 ballot measure by the CA Sheriffs Association to repeal SB 54.
For more information:
"California sends strong rebuke to Trump administration, becomes 'sanctuary state,' " thinkprogress.org
"California becomes 'sanctuary state' in rebuke of Trump immigration policy," Los Angeles Times, October 5
---
SB 54 SE FIRMA A LEY Y REPROCHA LAS POLITICAS MIGRATORIAS DE TRUMP
California se convirtió en "estado santuario," limitando las personas que los agentes locales y estatales del orden público pueden detener y trasladar en nombre de ICE
El trabajo duro y las oraciones de las familias, congregaciones y escuelas de OCO/PICO California a través del estado dieron fruto el 5 de octubre cuando el Gobernador Brown firmó SB 54, la Ley de Valores de California, a ley.  La ley entra en vigencia en enero del 2018 y protegerá a miles de familias inmigrantes vulnerables de las deportaciones.
Entre las provisiones principales de la ley:
  límites estrictos en las personas que los agentes del orden público pueden detener, interrogar y trasladar a solicitud de los oficiales de la agencia

del Servicio de Inmigración y Control de Aduanas de Estados Unidos

(ICE).

  previene a los agentes del orden público de ser nombrados como representantes de los agentes de la ley migratoria

  prohíbe a los agentes locales del orden público de pedir el estado legal de los individuos detenidos

  asegura que los inmigrantes sean notificados de sus derechos civiles antes de que ICE puede entrevistarlos
"Aunque SB 54 no es perfecto, establece un nuevo cortafuegos crítico entre las familias inmigrantes y la máquina federal de deportaciones, ya que entre el 60% al 70% de todas las deportaciones en California se originan en nuestras cárceles y prisiones," dice Joseph Tomás Mckellar, co-director de PICO California. "SB 54 es más que solo un proyecto de ley–es una declaración moral acerca de la santidad de las familias, redención, misericordia, y segundas oportunidades para los inmigrantes y ciudadanos por igual."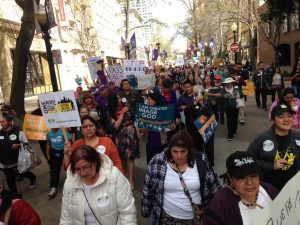 LO QUE PODEMOS HACER: PICO California alienta a OCO y otras de sus federaciones a través de California:
 Proteger SB 54

asegurando que las agencias del orden público implementen plenamente la ley por medio de a) la capacitación de sus agentes acerca de las nuevas provisiones de SB 54, y b) reportar cualquier violación de SB 54 al público y el Fiscal General de California Xavier Becerra.

 Prepararnos

para los ataques legales de la administración de Trump y una posible medida electoral en el 2018 de parte de la Asociación de Alguaciles de California para revocar SB 54.
Para mayor información:
"California envía un fuerte reproche a la administración de Trump, se convierte en "estado santuario,"  thinkprogress.org
"California se convierte en "estado santuario" como reproche a la política migratoria de Trump," Los Angeles Times, 5 de octubre