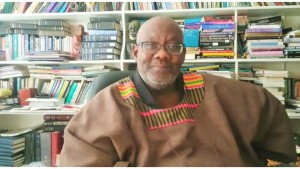 Oakland Community
Organizations Names
Regional Executive Director
The Board of Directors of Oakland Community Organizations (OCO) is pleased to announce that the Reverend Dr. George C.L. Cummings has been named Regional Executive Director.
"OCO has a proud history of victories in the fight for equity and social justice, and our continued power to bring about institutional change depends on our united efforts, across races, faiths and economic status," says Dr. Cummings. "Moral vision and shared aims are more important than ever as we combat the divisiveness and bigotry of today's political environment."
OCO is a 40-year-old faith-based, nonpartisan social justice group of congregations, schools and allied organizations that serve 40,000 families in Oakland, mostly people of color and those with low income. OCO is part of the PICO National Network, which has member institutions in 150 cities and 17 states and a growing international effort.
Dr. Cummings is widely respected across the nation as an effective community leader among people of faith. He will assume his post as Regional Executive Director on October 1. He comes to the position with a wealth of experience in community organizing, including past co-chairperson of OCO's Board of Directors; member of the PICO National Network's Board of Directors; and chairperson of the Board of Directors of the PICO Action Fund, a nonprofit that facilitates PICO members' civic engagement. He also serves as co-chair of the steering committee for Ceasefire, a program that has successfully reduced gun violence in Oakland.
Dr. Cummings is a renowned theologian and author and served for 20 years as a professor and academic dean at American Baptist Seminary of the West in Berkeley. He is the founding pastor of Imani Community Church in Oakland, where he will continue to serve as senior pastor.
---
Oakland Community Organizations Nombra al Director Ejecutivo Regional
La Mesa Directiva de Oakland Community Organizations (OCO) tiene el placer de anunciar que el Reverendo Dr. George C.L. Cummings ha sido nombrado Director Ejecutivo Regional.
"OCO tiene una historia orgullosa de las victorias en la lucha para la igualdad y justicia social, y nuestro poder continuo para llevar a cabo el cambio institucional depende de nuestros esfuerzos unidos, a través de las razas, fes, y estados económicos," dice el Dr. Cummings. "La visión moral y las metas compartidas son más importantes que nunca mientras combatimos la división y la intolerancia del entorno político de hoy día."
OCO es un grupo de congregaciones, escuelas y organizaciones aliadas religiosas, no partidarias, de justicia social que tiene 40 años de estar y que sirve a 40,000 familias en Oakland, la mayoría de estas personas de color y las de bajos ingresos. OCO es parte de la Red Pico Nacional, la cual tiene instituciones miembros en 150 ciudades y 17 estados y un esfuerzo internacional creciente.  
Dr. Cummings es respetado por muchas personas a través de la nación como un líder comunitario eficaz entre las personas de fe. Asumirá su puesto como Director Ejecutivo Regional el 1º de octubre. Viena al puesto con una riqueza de experiencia en la organización comunitaria, incluyendo como co-presidente de la Mesa Directiva de OCO, miembro de la Mesa Directiva de la Red Nacional de PICO, y presidente de la Mesa Directiva del Fondo de Acción de PICO, una organización sin fines de lucro que facilita el involucramiento cívico de los miembros de PICO. También sirve como co-presidente del comité de supervisión para Ceasefire, un programa que ha reducido con éxito la violencia de armas en Oakland.
Dr. Cummings es un teólogo y autor muy reconocido y sirvió por 20 años como profesor y decano académico en American Baptist Seminary of the West en Berkeley. Es el pastor fundador de la Iglesia Comunitaria Imami en Oakland, donde seguirá sirviendo como pastor principal.
Oakland Community Organizations, 7200 Bancroft Ave., #2 Eastmont Mall, Oakland, CA 94605, 510-639-1444