Here, PICO California Co-Director Joseph Tomás Mckellar answers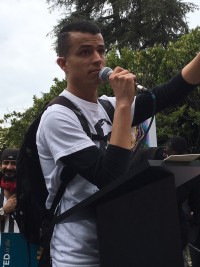 questions about this key immigration bill and how lobbying efforts for it intersect with PICO CA's support for bail reform and SB 10
Q: How important were the efforts of PICO network leaders (including those at OCO) in the victories won in the first leg of the battle—in the Senate—for SB 54 (California Values Act)?
Mckellar: I'll never forget the image of OCO leaders getting off the bus for the March 15 action and the energy and spirit that emanated from your group that day. OCO leaders, along with sisters and brothers across the PICO network, helped to create a moral crisis that was needed to reshape the debate. We made a broader argument to end criminalization not just of immigrants, but of Muslims, of people of color, of our entire communities.
PICO California and OCO were a catalyst that redefined the political landscape. At the massive statewide action on March 15, we created the moral crisis and public debate about the importance of this bill. Also, OCO helped to deliver a message to your police chief and senator to take a moral stand and to resist the narrative that says some immigrants are deserving and some others are not worthy because of mistakes in their past. As people who believe in the sacredness of families and life, we simply do not believe that some immigrants are worthy and some are not.
Q: What are some of the focus points for PICO California's work on SB 54 now that the Senate has approved the bill and it has moved to the Assembly?
Mckellar: The Sheriffs' Association lobby is in an all out war to kill SB 54. They're putting pressure on members of the Assembly to either vote no or to significantly amend the bill.
"When it comes down to it, we are fighting for the soul of our state and our country and that requires all of us to stand together."—PICO California Co-Director Joseph Tomás Mckellar
Some key things we are doing: Number 1, we're preparing to force Senate President Kevin De León and Governor Brown to make a moral choice: Will they take a courageous stand with immigrants and people of color who have been targeted and criminalized by a prison and detention system that profits off their backs? Or will they acquiesce to the pressure from the Sheriffs' Association and bail bonds industry and their fear-mongering, scapegoating narrative? Also, we are continuing to meet with Assembly members to get them public on where they are now on this bill.
In addition, we are countering the anti-immigrant narrative that motivates opposition to SB 54. We must raise our voices so the Governor, Senate President Pro Tem De León, and the legislature hear our testimonies, appreciate the power of our moral vision, feel political pressure on behalf of our families and loved ones. That's at the heart of the People's Hearing we are hosting on August 23 here in Sacramento.
We'll be raising up support for SB 10 as well in the People's Hearing. SB 10 would essentially eliminate the system of cash bail, which penalizes the poor and enriches bail bondsmen and banks that support them by charging exorbitant amounts, and keeps the people who can't afford to pay locked up pretrial and during trial—and away from their families and loved ones.
If you look at SB 54 and SB 10 together, you can see they have key goals in common: to counter severe threats to the well-being of our families and communities. The aim of these bills is to keep our families together and safe—whether black of brown, immigrant or native born. They both aim to end prison and detention systems that have created a financial dependency on a steady stream of black and brown people flowing through their institutions.
Q: How important is it for OCO leaders to come back to Sacramento on August 23 and also keep up  the fight for SB 54 back in districts at home?
Mckellar: This is a critical moment for OCO and PICO California to embody this mantra we've had of being one people, one fight. We lose if this is only seen as fight about undocumented immigrant families.
It's about anyone who has ever been a stranger, ever been criminalized by a system that is interested in steady flow of people into our prison system and our criminal justice system. SB 54 will set a precedent for saying that we will not accept a system that profits off our people, that targets certain people of certain immigration status, or race or with dark skin, for a life of family segregation, a life of stigma. This has to about brown, native, white, Asian Pacific Islanders, and Black leaders coming together saying this is our fight. The empire wants us to silo ourselves, but when we do that we feed the beast of the empire. When it comes down to it, we are fighting for the soul of our state and our country and that requires all of us to stand together.
SUPPORT SB 54 and SB 10: ONE PEOPLE, ONE FIGHT!
COME TO SACRAMENTO ON WEDS., AUG. 23!
– PICO CA Action: People's Hearing
– Legislative Visits (SB 54 and SB 10)
With the California Legislature in recess through August 21, we must make a strong case in the public arena for keeping our families together and safe. Let's build momentum to get SB 54 and SB 10 (California Money Bail Reform Act) passed!
PICO California—including OCO and federations across the state—is organizing a mass turnout at the State Capitol on Weds., August 23, 10 a.m. for a People's Hearing. The hearing will feature moral testimony in support of SB 54 and SB 10 (see more about bail reform in "Law and Order, the Remix")." PICO California's legislative visits will take place in the afternoon.
OCO will organize buses (FREE) to take folks up to Sacramento for the People's Hearing and legislative visits. For more info or to sign up for the trip, contact Alba (phone) 510-639-1444 or (email) Alba@oaklandcommunity.org
SB 54 AT A GLANCE
To become law, a bill must be passed in both the State Senate and the State Assembly and be signed by the Governor.
SB 54 (California Values Act) has passed in the Assembly's Public Safety Committee and its Judiciary Committee. Next step: Appropriations Committee. The California Values Act aims to ensure that state and local resources are not used to cooperate with federal immigration enforcement nor to fuel mass deportations, separate families, or terrorize our communities.
VIDEOS FROM RELATED OCO ACTIONS
May 1 March: International Workers Day in Oakland
OCO Leader Denise Gum's testimony from recent SB 54 visit
Learn More: Track the progress of this and other state bills here.
---