An update on fair funding of public schools across our state, plus reports on OUSD's new middle school and budget shortfalls
ABCs of LCFF
Ensuring more state $$ for students with greatest need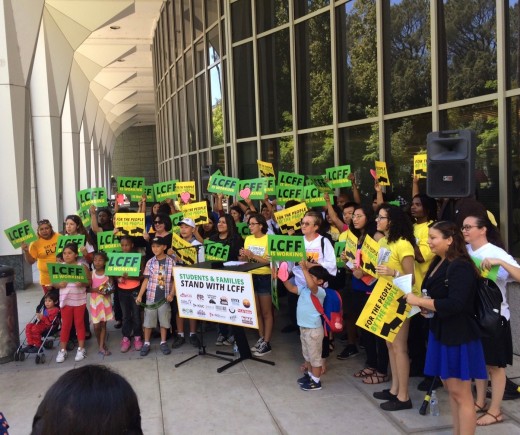 Background: For over a decade, PICO CA organized with allies for equitable education funding in California. OCO parents and students were a strong part of the effort to lobby legislators and win passage in 2013 of the state's historic civil rights equitable funding law called the Local Control Funding Formula (LCFF). OCO leaders have been part of the effort to ensure that the promise of LCFF is realized in schools across Oakland and across California. LCFF replaced the previous kindergarten through grade 12 (K–12) finance system and directs more state money to districts serving students with the greatest needs.
What's Up: On July 12, over 20 leaders from PICO CA's Education for Liberation campaign from across California, including Oakland Community Organizations, joined Californians for Justice and allied parent and student organizations at the California Department of Education for a press conference. Students, parents, school superintendents, and elected officials applauded the advances made through implementation of LCFF.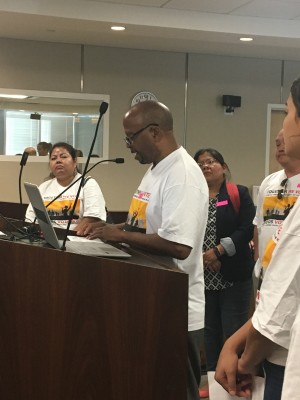 PICO CA leaders shared their testimonies at the State Board of Education meeting and at the press conference—continuing to push for powerful parent engagement and restorative practices in schools. While leaders acknowledged there is work to be done, they emphasized the positive impact of LCFF for students with greatest needs. LCFF funds have helped schools add social workers, restorative justice programs, case managers, academic support for English Language Learners, and family engagement staff.
Learn More: Visit #LCFFisWorking.
Here is a press clip in Spanish:
Justice & Equity for California Students – LCFF Press Conference in Sacramento
COMMUNITY WELCOMES OAKLAND SOL
Observers say this school will be the shining star of OUSD
Background: Oakland SOL was approved by the OUSD School Board and administration in December 2016 as a clear sign of the district's commitment to multilingual, multicultural education. This is the first in-district school opened in the past 10 years. On Saturday, May 20, Kyla Johnson-Trammell, who was recently named OUSD Superintendent; Board President James Harris and Board Director Jumoke Hinton-Hodge joined the students and families for a ribbon-cutting ceremony celebrating this important landmark.

What's Up: Students and families who have enrolled in Oakland SOL eagerly anticipate the first day of school on August 21. They represent the diversity of East Oakland—African Americans, Latinos, Yemenis and others. More than 30 parents, students and educators have spent the past three years designing the school's innovative curriculum, which features small class sizes and a rich, rigorous education with personalized instruction in Spanish and English; a project-based learning model that develops strong critical thinking skills; and student-led service learning projects focused on social justice issues impacting Oakland youth. If you know a family that is still looking for a great school for their 6th grader this fall, please email katy@oaklandcommunity.org.
View More Videos from Ribbon-Cutting Program: OUSD Board President James Harris and Kyla Johnson-Trammell, now OUSD Superintendent.
More Details: For information about enrolling children at Oakland SOL, contact: Simone Delucchi, Community School Manager, Oakland SOL, simone.delucchi@ousd.org; Luz Alcaraz, Parent Leader – Oakland SOL/OCO, mar25luz@hotmail.com; and Katy Núñez-Adler, Organizer, Oakland Community Organization, 510-967-5137.
DEFINING AND BUILDING OUSD'S FUTURE
Background: OUSD is facing a budget crisis that has led to deep cuts that directly impact students in their school communities this year and next. Much of the current discussion has focused on closing and consolidating schools to address the financial crisis and structural deficit.
What's Up: OCO education leaders and allies from schools and congregations are preparing to fully engage, develop proposed solutions, and directly impact the decisions we make as a District and a City in the coming weeks and months about the future of education for Oakland students—especially for low-income students of color. We are taking on a campaign to ensure that we build the power and knowledge we need to win. We are seeking answers to tough questions, including:
How have school officials determined that "too many schools" is the problem?
Why are we in a financial crisis when there is more money coming into our district than before with passage of Prop 30/55, the Local Control Funding Formula, Measure N and Measure G1?
How are changing demographics and gentrification impacting our communities, student enrollment and budget?
Most important: How can we create equitable quality education for every student in Oakland, and close racialized opportunity and outcome gaps while at the same time being financially sustainable?
Get Involved: Contact Katy Núñez-Adler at katy@oaklandcommunity.org or Sayuri Sakamoto at psyudi@sbcglobal.net to learn more or join OCO Education for Liberation Committee meetings. Meetings are held on the 3rd Thursdays of the month from 6–8 p.m. at the OCO Office, 7200 Bancroft Avenue, #2 Eastmont Mall, Oakland, CA 94605.
THE LONG VIEW
August 14, 2017, starts at 5:30 p.m. The Gathering Hall, Mills College, Graduate School of Business and Public Policy, 5000 MacArthur Blvd, Oakland 94612
Don't miss this debut screening of a new documentary on Oakland's public school community, through the prism of OCO organizing.
Anyone interested in education reform and grassroots organizing will find The Long View a story that is both familiar and thought provoking. This film describes the experiences of the two Oakland school communities and their different trajectories—all woven together by OCO's groundbreaking work in education. The journey dates back to the 1990s, with strong sections on community engagement, voter turnout and passage of transformational governing and funding policies. The film ends with an OCO-led community meeting at Fremont. Noted educator Dr. Linda Darling-Hammond will lead a conversation after the film screening. Refreshments will be served. This event is co-sponsored by The Mills College School of Education and the filmmaker, Susan Zeig. RSVP: info@acommunityconcern.org
---
CLICK HERE FOR FULL NEWSLETTER & UPCOMING EVENTS
---