---

OCO leaders are helping to redefine the local and state criminal justice system
There were lots of moving parts during the City of Oakland's contentious process to approve the 2017–2019 budget, and OCO Leader Terri McWilliams was one of them.
McWilliams (pictured above at left) was present and active over the course of several weeks that saw City Councilmembers arguing, department spokespersons hedging, some community members protesting and others drafting legislation (McWilliams included)! She got involved in the work to set up the Police Commission created by Measure LL, discussions about the new Department of Violence Prevention and, in a related sphere, actions to secure county jobs for formerly incarcerated residents. (Did we mention taking to her own church's pulpit during Sunday service to encourage members to get involved?)
Like Jean Moses, Bruce Schmeichen and many other OCO leaders she works with, McWilliams makes it her business to make sure officials take care of theirs.
"I decided to become involved because I wanted to understand the process," says McWilliams, in explaining her work with Coalition for Police Accountability, the group of social justice organizations that includes OCO and fought for passage of Measure LL. "Instead of just voting for it and going on about my business, I wanted to know what's next and how we're going to hold them accountable for this type of policing.
"It's pretty cool," she adds. "You really can make a difference if you get involved in the process. Your voice can be heard."
Here are some highlights of OCO's recent work in the criminal justice arena:
OAKLAND POLICE COMMISSION
Background: Last November, OCO leaders helped to win passage of Measure LL, which establishes Oakland's Police Commission, one of the nation's strongest. Once Measure LL was passed, responsibility fell to the City Council to approve "enabling legislation," which spells out details of the commission's operations, staffing, etc. OCO leaders worked with Rashidah Grinage and the Coalition for Police Accountability and spoke at Council meetings to make sure the law empowers the Commission as voters expect and the city needs.
What's Up: In considering various amendments, Councilmembers eventually joined the Coalition in opposing Selection Panel background checks, because such checks would be a big obstacle for applicants with convictions on their record. Councilmembers also agreed with the Coalition's idea that the head of the Community Police Review Agency should report directly to the Police Commission. One Coalition recommendation was unsuccessful: an amendment that would have prevented the Discipline Committee from having a majority of mayoral appointees. The coalition argued that such a composition could be perceived as biased toward police, especially in controversial cases. The amendment failed. It will not be included in the ordinance but councilmembers have suggested that the Commission itself could adopt it as a best practice.
Get Involved: To get more info or help OCO monitor the Commission, email Bruce Schmiechen at brucds@pacbell.net.
Learn More:
"Hundreds Apply for Powerful Oakland Police Commission," East Bay Times, July 21, 2017.
DEPARTMENT OF VIOLENCE PREVENTION
Background: Councilmember Lynette McElhaney (District 3) proposed establishment of a new Department of Violence Prevention in Oakland. Responses from her fellow Councilmembers, the public and community groups ranged from strong support to wait-and-see skepticism to outright opposition. OCO raised questions about whether a stand-alone department had been effective in comparable cities or if the violence-reduction goals were feasible. The main thrust of Councilmember Desley Brooks' (District 6) competing legislation was a Blue Ribbon Commission with robust community involvement. The Commission would explore best practices, evaluate current programs and ID any new strategies.
What's Up: At different meetings, the Council passed both measures! The two will "live together" because McElhaney's revised law also calls for convening a Blue Ribbon Commission, the top priority for the new department's chief. OCO leaders who had questioned whether simply hiring a new manager would be effective—and also having identifed some misleading data about the impact of Ceasefire in Oakland in the DVP rationale—also proposed a community-based task force to evaluate violence prevention in Oakland. The Commission is tasked with involving the community in their deliberations—an opportunity for OCO leaders to weigh and shape the new department's agenda.
1,400 RE-ENTRY JOBS
Background: As part of the Justice Reinvestment Coalition (JRC), OCO leaders campaigned hard for creation of a program offering 1,400 jobs to formerly incarcerated residents in Alameda County. Underlying the campaign was the belief that our county's funds should promote equity and social justice. In June 2016, the Board of Supervisors approved the jobs program.
What's Up: The Justice Reinvestment Coalition continues to denounce the county's despicable delay in making the promised jobs available—only six hires to date!!! The one-year anniversary of the BOS' vote was marked by a protest rally outside the BOS meeting on June 28. That action followed an April 27 Town Hall that brought county officials before a standing-room-only crowd (OCO was well represented) to answer community demands. JRC members have also launched a multimedia campaign to build moral and political support for our returning brothers and sisters. Check out this East Bay Times op-ed. Also on display: billboards across from the Grand Lake Theater, on San Pablo Avenue and in other locations.
 Get Involved: Pledge your support here for investment of Alameda County funds in people not punishment. Show your support wherever, whenever and however else you can at rallies, Alameda County Board of Supervisors meetings, with letters and more. To join the effort or get more info about the Justice Reinvestment Coalition, email Rev. Damita Davis-Howard at ddavis-howard@oaklandcommunity.org.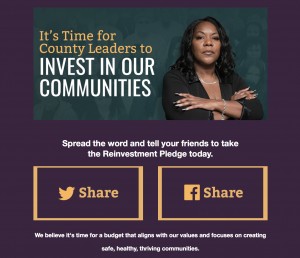 Learn More:
"Alameda County Had Hoped to Hire 1,400 People With Criminal Records—They've Hired 6," East Bay Times, June 28, 2017
"Mass Incarceration: Where Are the Jobs in New Alameda County Re-entry Program?" East Bay Times, March 26, 2017
CALIFORNIA BAIL REFORM
Background: Under California's current money bail system, the rich are rewarded and everyone else is punished. All too often, low-income people who have been arrested but not convicted of a crime are locked in jail for weeks, months, or even years while awaiting resolution of their case.
What's Up: PICO California supports The California Money Bail Reform Act of 2017 (SB 10 – Hertzberg, AB 42 – Bonta). Opponents include practically all of law enforcement and the bail industry—even the infamous Duane Chapman of reality show Dog the Bounty Hunter—which profits from the status quo. Under this legislation, no one will be kept in jail while awaiting trial simply because they can't afford to post bail. Instead, individuals will be assessed for their risk to community safety, which will be the basis for deciding if they can be released before trial. People will get pretrial services to help them get back to court and comply with conditions of their release. The State Senate and the Assembly Public Safety Committee have passed SB 10. Next step for SB 10: Assembly Appropriations Committee hearings.
Get Involved:  To find out how you can support SB 10, email Rev. Damita Davis-Howard at ddavis-howard@
oaklandcommunity.org. Join leaders from OCO and PICO California federations from across the state on August 23 for an action in Sacramento in support of SB 10 and SB 54. Get more info here. GET ON THE BUS! See you there!
Learn More: Track the progress of this and other state bills here.
Bail reform is gaining momentum at the national level: California Senator Kamala Harris and Senator Rand Paul (KY) have introduced a bail reform bill at the federal level and published this recent op-ed in the New York Times.
---