A few of the many OCO leaders deserving of honors for all their good work
OCO LEADER STEALS THE SHOW?
Well, that's not really what happened, but given all the love and support Vernetta Woods has shown Fremont High students, she really could have top billing there.
Woods has been active at the school for several years, when her daughter attended there and after. Woods has served as vice president of Fremont's School Site Council, participated in hiring teams for Fremont principals, acted as unofficial mom-on-campus to countless students and more. That's why she was selected for a special award at Black to the Future, a special event at Fremont on May 25, 2017, honoring African American students. (Carlos Castro, an outstanding Fremont High teacher and OCO board member, helped organize the celebration.) Congratulations, Vernetta!
CESAR CHAVEZ WOULD BE PROUD
In the spirit of Cesar Chavez Day, Oakland City Council President Larry Reid and fellow Councilmembers honored OCO leaders Angel Patiño and Luz Alcaraz in an April 18, 2017, City Council resolution. Both OCO leaders have played a key role in organizing St. Louis Bertrand's campaign against illegal dumping in East Oakland. The resolution was "in celebration of the legacy of Cesar Chavez by recognizing volunteerism and giving back to Oakland through leadership and community service." Congratulations, Luz and Angel!
Click to learn more about OCO's anti-dumping work.
FIRST MT. SINAI LOC LEADER HONORED AS 2017 YOUTH OF THE YEAR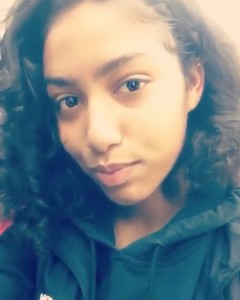 Boys & Girls Clubs of Oakland (BGCO) has named Angela M. Drake as its 2017 Youth of the Year. Drake is an LOC leader at First Mt. Sinai Missionary Baptist Church.
"Angela serves as a positive role model and an inspiration for all of Oakland's youth, including our 2,300 student-members," said BGCO in its announcement. "Angela's good character and citizenship is on full display within the broader community. Recently, Angela spent a month in Bakersfield, CA volunteering for a voter engagement and registration group. She is an advocate for fair housing in Oakland, and passionately participates in peaceful public demonstrations addressing important issues such as Women's equality." Angela has also walked precincts and done phone banking with OCO since 2014.
---
CLICK HERE FOR FULL NEWSLETTER & UPCOMING EVENTS