Highlights of history in the making: OCO leaders, organizers and allies resist Donald Trump's policies
On March 15, leaders from OCO and other PICO federations from across California will join forces in Sacramento to rally support for two key bills that are part of the ICE Out of California package:
SB54 (California Values Act),

which prohibits state law enforcement agencies from engaging in immigration enforcement

SB31,

which prohibits the establishment of any statewide religious or ethnic-specific registry (like Donald Trump's idea for a so-called Muslim Registry)
Together, the bills aim to place a firewall of protection between California families and these destructive policies.
In truth, OCO's resistance to the bigotry, divisiveness, endangerment and sheer folly of Trump's policies began months earlier, on the night of November 8. We didn't know then about details of Trump's plans, but we were clear about their intent. For us—leaders, congregation members, organizers, students, parents, allies, neighbors—it was a call to take united action to support and safeguard each other. One people, one fight!


ICE grabbing folks off the streets to deport them is just like police throwing folks in jail for violating parole. No difference, just like McDonald's and Burger King.—Jabari Holder, OCO ally, PICO California organizer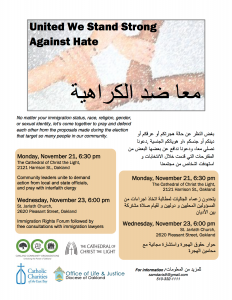 From the start, threats from the incoming Trump administration were taken seriously by OCO families, who were already feeling the pain. Anxious calls to OCO organizers led to a Citywide Forum and Interfaith Prayer on Nov. 21 at the Cathedral of Christ the Light and on Nov. 23 to the first of several forums OCO has sponsored to offer information, legal counsel and solidarity to immigrants in need (Imani Community Church, December 15; Primera Iglesia Presbiteriana Hispana, January 12; St. Elizabeth Church, February 3; St. Jarlath Church, February 26).
At the Christ the Light action, early resistance to Trump policies took shape. The determination in Congresswoman Barbara Lee's stirring remarks was echoed by the interdenominational group of clergy's shared tenets of faith. Local elected officials pledged to provide sanctuary in their various jurisdictions—including City Council members for the City of Oakland and school board directors for OUSD. The Alameda County School District's superintendent and the Alameda County Board of Supervisors also registered strong support. 
In the days that followed, OCO leaders and organizers helped to ensure that pledges for sanctuary policies became realized fact. On Nov. 29, the Oakland City Council reaffirmed its commitment as a Sanctuary City in Res. 86498 C.M.S OCO leaders and organizers worked closely with the Oakland Education Association, parent and student allied organizations, and OUSD Board Directors Shanthi Gonzales and Rosie Torres to draft and pass (at the Dec. 14, 2016 meeting) a strong resolution that reaffirms OUSD as a Sanctuary District. And OCO leaders of faith across the city considered how the concept of "sanctuary" applies to their own actions as individuals and in their own congregations.
[OCO's idea of one people, one fight is important.] When it was just the Latinos advocating for immigration reform, not enough attention was paid to their pain.  Same thing that we need to educate in the Latino community about mass incarceration so they understand what a huge problem it is. We need [all that] awareness here so we can bring people together.—Sam Davis, OCO leader
Taking It to the Streets
OCO leaders are also going outside the walls of their schools and places of worship, beyond school board and council chambers, to take a stand, boost public awareness and grow the movement. OCO urged local residents to "March & Resist Trump's Policies" on Jan. 19 in a rally that made its way from the Ronald V. Dellums Federal Building to the steps of City Hall. Among those walking or speaking in support: City Council members Noel Gallo and Rebecca Kaplan, OUSD Board President James Harris and  District 6 Board Director Rosie Torres and Mayor Libby Schaaf. On Inauguration Day, a multiracial, multicultural gathering of about 750 students, educators and family members from Manzanita Community School and Manzanita SEED visibly demonstrated the power of the people and gave added meaning to their annual neighborhood Peace Walk. (Council Member Gallo and Director Torres were there too!) The day after, OCO leaders were among the crowd estimated by some as 100,000 strong. They marched in downtown Oakland, joining millions of protests against Trump policies worldwide.



All of this pertains to me and all the people involved. We're in it together. I see the whole picture together, I see it all as one. We're united by faith, glued together by our various faiths. [We're making] a continuous prayer for Oakland. And I'm hopeful, very.—Sister Mary Amora, SMSM, OCO leader
With massive support from OCO and PICO leaders from across the state, the action on March 15 in Sacramento will continue building the movement's momentum and achieve its goal: passage of SB54 and SB31. Still, in the weeks and months that follow, we can expect more challenges to our families our community, our values. At every turn, in Oakland and across the nation, OCO and PICO must continue to organize, peacefully protest, resist, inspire, build, support and revolutionize. One people, one fight! It is our duty to love and support each other! It is our duty to win!  —Angie Noel