13 TONS   
That's the amount of garbage picked up so far by 100 volunteer SLB leaders and supporters in community clean-ups, according to Mayor Schaff.

OCO leaders received a progress report from the Oakland mayor, District 7's council member and the director of the new Department of Race and Equity (DRE)
Illegal dumping has been a long-standing health issue in Oakland's flatlands. To better understand and combat the problem, OCO leaders at St Louis Bertrand Church (SLB) held one-to-one conversations in the community and research meetings over five months, then exercised their power in demanding that city officials solve the problem.
On Nov. 4, 2016, about 700 people attended a meeting at SLB and directed Mayor Libby Schaaf and District 7 Council Member Larry Reid to commit to demands that included: (1) hefty fines for illegal dumping plus a requirement to clean streets, (2) giving illegal dumping top priority in the City of Oakland's new Department of Equity and Race, (3) new trucks for the area, (4) more cameras at hot spots. On Feb. 24, Schaaf, Reid, DRE director Darlene Flynn and other city officials reported on their progress.
The City Charter limits fines to $1,000 per item of trash (most violations involve multiple items) but the City will look into violators paying less per item (to follow charter requirements) but also doing mandatory community service. In addition, new signs about fines for dumping will go up soon in locations suggested by OCO leaders.
The Department of Race and Equity has given priority to District 7's problem and will be monitoring the various new measures to ensure they have the desired effect; if not, smarter remedies will be devised. According to DRE Director Darlene Flynn, the trash problem is worse in East Oakland than in other parts of town.
Four new trucks: One new compactor truck was purchased in December and is being used in East Oakland; an additional truck is being leased for use in the area, starting in March. Two more trucks have been purchased and will be delivered later this year.
New cameras: The City has purchased and installed four sets of new cameras for litter enforcement—two of them are in East Oakland with license plate readers. The City has been invited to apply for a grant to purchase more.
To report illegal dumping and other such hazards, download the SeeClickFix app at iTunes or Googleplay or call the Public Works hotline, 510-615-5566.
At the end of the meeting, OCO leaders pressed the Mayor on other problems in District 7: potholes and unpaved sidewalks. Schaff said, thanks to the recent passage of Measure KK, the city will be repaving 295 blocks—230 will be in the flatlands. Also, 12,000 potholes will be filled this year. Funds to pave sidewalks on G and E streets will have to be considered through the budget process.
_______________________________________________________________________________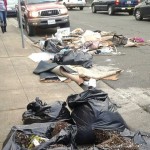 CLEAN-UPS AND ANTI-DUMPING MEETINGS
St. Louis Bertrand Church, 1410 100th Ave., Oakland 94603
          1st Thursdays, 7 p.m., Community Meetings
          3rd Saturdays, Community Cleanups, start at 8:30 a.m., meet at the parking lot
______________________________________________________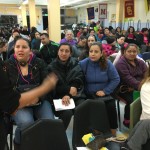 FOR MORE INFO
Mayor Schaaf and Council Member Reid, give progress report on illegal dumping, St. Louis Bertrand Church, Oakland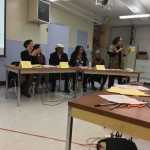 EARLIER COVERAGE
Check OaklandNorth's in-depth report about OCO's anti-dumping efforts