A Great Win for Oakland Kids
On Feb. 26, the Oakland Unified School District Board agreed to send the $1.5 million promised to schools after our leaders and partners showed up, spoke out and made clear that the district needed to fulfill its promise of making sure basic needs were met at each school. Since our community helped win Prop. 30, Measure J and LCFF, we have been pressing the board to send that money to schools that need it the most. The board has shown leadership and a commitment to equity. However, the board took longer than planned to distribute some of that money to schools, even though boardmembers passed a budgeting policy in January that promised to send more support to students with the greatest need. This is why we've continued to fight to get the board to fulfill its promise.
OCO leader Di'Jahnay Stewart spoke up at the Feb. 26 board meeting to stress why that $1.5 million was so important. She said the money was important to her because Dewey High School, the school from which she graduated, was running out of supplies.
That wasn't right, she said, because when she was in high school, she was homeless and had to attend a number of different schools. It wasn't until she got to Dewey that she found teachers who cared about her and who would help her graduate.
It was a shame, she said, to see teachers like that having to buy their own supplies because the district didn't send the school money that was promised.
"If they give the schools money, they can have the resources to take care of things like that," Stewart told the board. "Then teachers wouldn't have to worry about spending all their own money."
Let's keep working to make sure that OUSD practices real shared decision-making.
Leader Spotlight: Erin McGhee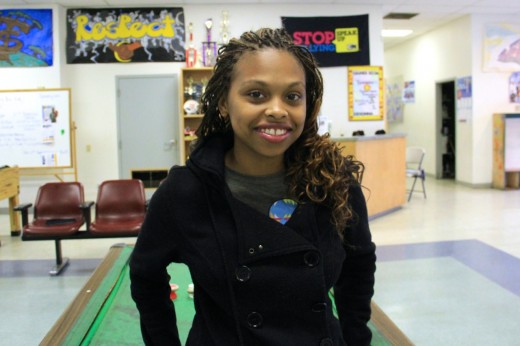 Erin McGhee has been attending the Boys & Girls Club Carr Branch in Oakland since she was 11 years old.
In the six years that she has been a member, she has grown from a kid who was just coming after school and trying to find her way in life to a leader who has become a model for other kids to follow.
The organization has been so impressed with Erin that she was recently named the Boys & Girls Club Youth of the Year for Oakland.
With the award, she gets scholarship money for college and a change to win more by competing with other youth honorees in the region and possibly in the country.
Dante Rodgers, the education director at the Carr branch, said Erin deserved the award because of how she handles home and family life with her siblings, her moral character, her commitment to the community, her service to the Boys & Girls Club, her life goals, and what she has been able to overcome.
"Since she's the older sibling, she has to serve the role of a mother figure oftentimes because her mother and grandmother work and there is no father figure around," Rodgers said.
As a youth leader, Erin spends every day interacting with the younger kids at the club after school and providing a good example for them.
In one of her essays she submitted for the Youth of the Year award, Erin said she tries to uphold the Boys & Girls Club's mantra that there is no status quo at the club, only friends. She continues to be dedicated to her role because, "It's a place to be yourself."
Erin, 16, a junior at Unity High School, is now on her way to college, where he plans to study business management. She hopes to one day open a recreation center for youth to expose them to the visual arts.
In addition to her service at the Boys & Girls Club, Erin is an active OCO leader. She is a leader with the Martin Luther King Jr. Freedom Center, which was founded by Rep. Barbara Lee. She is a member of First Mt. Sinai Missionary Baptist Church, she has participated in the Ceasefire night walks, and she performed a poem at the Work for All economic summit in December.
Let's all give Erin McGhee a big round of applause.
OPD Chief Whent Joins Night Walk
More than 80 people, including Oakland Police Chief Whent, participated in the Ceasefire night walk at the end of January. Others from the police department and City Hall joined in as well to bring a peaceful presence to one of the areas in East Oakland hardest hit by violence in Oakland.
The walk started out of a new church, St. Louis Bertrand Catholic Church, and the walk was important because the route took place in the area where two brothers were shot and killed on separate occasions.
It was humbling to see the group stop at the spot where the two homicides happened. The group prayed for peace and for the families that lost their loved ones. The owner of the home in front of where the homicides took place said there hadn't been a shooting in that neighborhood in 40 years.
It was good to see Chief Whent join the night walk, which shows the city's commitment to the Ceasefire partnership. This relationship will be incredibly important as the Ceasefire strategy moves into working on police-community relations.
Research, Research, Research
All month, we've been busy setting up 1:1's and research meetings to take on the task of transforming OUSD high schools and the criminal justice system. Meetings have been held with parents from Oakland High and Fremont High, as well as with parents from St. Elizabeth's. We met with the principal of Oakland High and Jean Wing from OUSD's research department. These meetings have been crucial to our research, especially as it relates to Linked Learning. We have to find another way to increase the graduation rates for African-American and Latino students, and we believe Linked Learning provides that pathway. Stay tuned for more opportunities to learn about our high school transformation work.
We also held an important research meeting with Alameda County Supervisor Richard Valle about our work on Realignment. The purpose of the research meeting was to discuss the community's concerns about the development of a Community Advisory Board (CAB). We heard those concerns from several community forums held throughout Alameda County, and it is our hope that the formation of a CAB includes transparency, accountability, community representation and the allocation of Realignment funds in favor of service providers—toward the ultimate end of reducing recidivism. There will be more opportunities coming up to get involved with this work as part of our Lifelines strategy.
Casino Bus Trip
The leaders from St. Jarlath's are planning a bus trip to Reno on Saturday, March 8, to raise money for their church and OCO. The cost of the trip is $50 and they will be going to Silver Legacy and Carnivale. The bus will depart from St. Jarlath's at 7am on March 8 and return at 11pm. Breakfast and lunch will be served on the bus, and bingo will be played on the trip. For more information, contact Zonia Ramirez at 510-415-1002.