Another superstar year
While we didn't win everything that we wanted in 2013, we certainly had some superstar moments. We turned up the heat on several fronts and engaged leaders in multiple campaigns. While the work sometimes seemed endless and the light at the end of the tunnel seemed far away, we had faith that God would be with us every step of the way until things changed. We have the same faith that God will continue to be with us in 2014 so that we can have another superstar year. Take a look back on what OCO achieved in 2013.
Leader Spotlight: John Jones III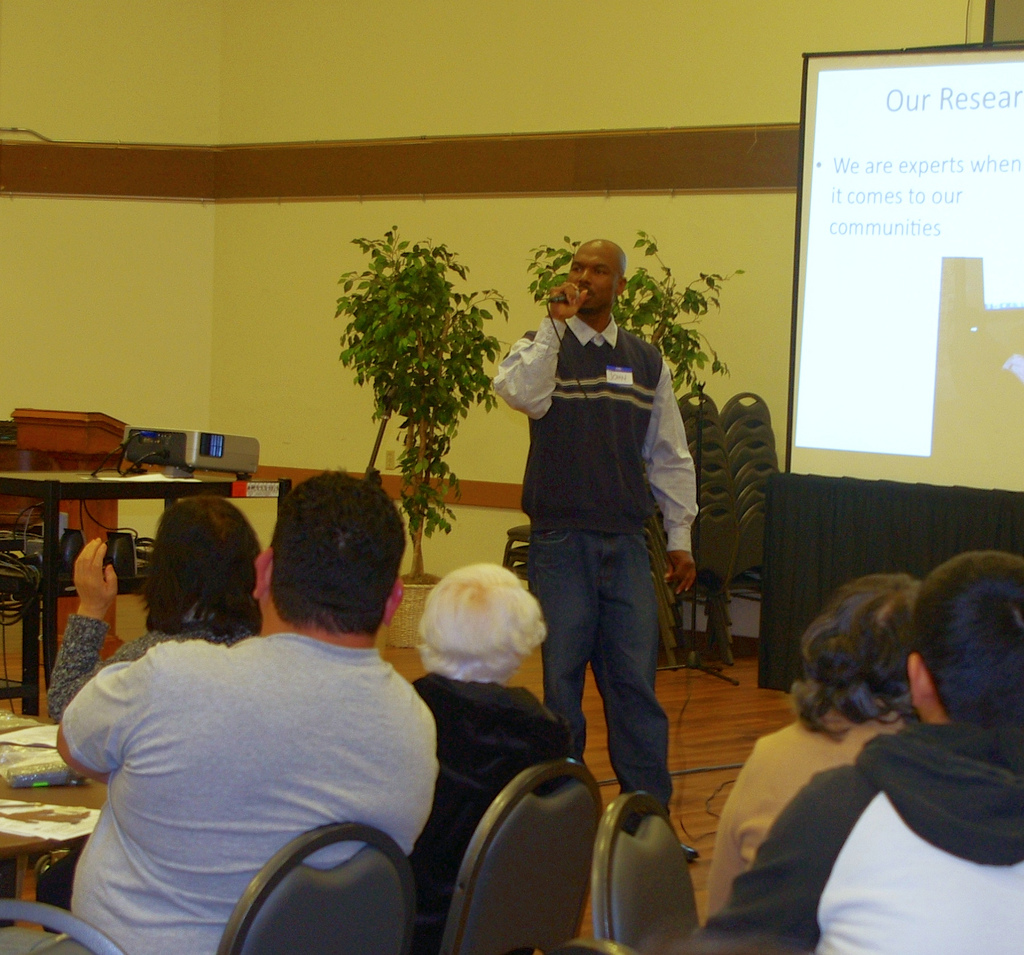 John Jones III, a member of Center Street Baptist Church, started working with OCO in October when his church began participating in the West Oakland Lifelines night walks. But little did he know that soon after he starting doing the night walks he would be called upon to serve a greater mission in OCO.
John met OCO staff member Barbara Lafitte-Oluwele during the night walks, and Barbara introduced John to OCO organizer Brandon Sturdivant, who was in the midst of organizing the Work for All good jobs summit. They asked John if he could help with collecting data from the more than 1,400 surveys that were crucial to making the summit a success. Being a formerly incarcerated black man and unemployed, John agreed to help out knowing that his life experience would bring a lot to the table. In the end, John played a major role in organizing the summit by completing 500 of the surveys and being one of the speakers on the day of the summit.
John said that working on the surveys changed his perspective on who is really struggling to find good jobs in our community.
"I went into the process thinking I was the only member of a disenfrancished group," he said. " But I realized that unemployment affects everybody. Ultimately, it's a human problem, and that motivates me to work with others on this human dignity work."
John said his involvement with the good jobs summit gave him a good introduction to what it means to be an OCO leader and an even better leader in Oakland.
"Being the first-born in my family, I've always been a leader," he said. "But, for me, my motivation for being involved in OCO is based on the life of crime that I used to live and how I want to recreate my legacy. Secondly, it's a reflection of my faith. I believe that we are all committed to doing good work and that we are the answer to other people's prayers."
Fundraising Update
OCO Leaders, Board Members, staff, and regular folks—supporters of grassroots community organizing—gave $4,140 between November and December 2013. Over $2,661 of this was through online donations to the OCO website through PayPal!
Of the donations, Chief Operating Officer Ken Johnson said: "This is a great achievement by OOO Leaders, Board Members, staff, and   community supporters, especially in that this is the first time OCO has attempted a systematic fundraising effort. Every dollar raised will go to the daily work of OCO."
OCO accepts no government money. Over 92% of its funds come from foundations. For the new year, the OCO is moving to add more diverse funding sources, including fundraising events, contacts with businesses, and individual donors. Ken added that: "Watch here for more news in 2014 on how you can be involved, as OCO wants to deeply engage organizers and Leaders in raising the funds to sustain grassroots community organizing in Oakland. Yes, we can!"
It is never too late, and always a good time to donate to OCO with either a one-time or monthly donation. Visit our donation page to make your gift. Thanks so much for your help in unlocking the power of Oakland residents!
EDUCATION: Everyone Agrees that Equity is Good
January has been a big month for moving our education work forward. On Jan. 15, the Oakland Unified School District Board, after hearing the many comments from the community (including a number of OCO leaders), approved a new school budgeting policy that promises to allocate more money to schools, empower school communities and direct funds to the students with the most need. The board also delayed voting on Supt. Gary Yee's implementation plan for the new budgeting system—a decision we think is the right decision at the moment.
However, it still remains to be seen how the district will move forward to make sure that school communities truly have the decision-making power we fought for with Prop.30 and Local Control Funding Formula.
The next day, the state Board of Education approved spending regulations for the LCFF, which was another huge win for Oakland students. This sets the precedent that more money should go to the students with the most need and that local schools should have more power to decide how to use the dollars.
In his state of the state address, Gov. Jerry Brown also gave a shout out to all the LCFF advocates who showed up in great numbers to the state education board to voice their concerns about how the law would be implemented. He said he has full confidence in each local school community to make its own decisions about how best to use the Prop. 30 money to serve the kids with the most need.
National Leadership Training
Six of our leaders and one staff member took the plunge into PICO's National Leadership Training earlier this month, and everyone was very engaged throughout the entire week of training. We congratulate Damita, Sloane, Janice, Arielle, Anes, Sheryl and Cesar for stepping up and immersing themselves in the PICO organizing principles. We even heard that Janice helped organize a flash mob that got over 130 leaders involved at the retreat center in Norcross.
And we can't forget to mention that four of the leaders were so determined to make it to the training that they traveled through the porlar vortex, four airports and three flights over 15-plus hours. We congratulate all of the participants for all their hard work and determination.
ACA Enrollment Update
The OCO ACA Enrollment Team, headed up by Janice Taylor, has been covering a lot of ground. They've done one event so far, and they have six more scheduled for February and March. According to Janice, the team has also been busy doing outreach at churches, schools and community centers and following up with all the people who've come to an event so far. They've also attended two research meetings in Sacramento to look into how more people could get covered under the state's new health care law.