Lifelines to Healing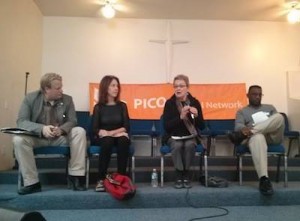 Our Lifelines works has been picking up over the last couple of months. We co-hosted a community strategy meeting in Berkeley to figure out how to reverse California's trend of having the largest number of prisoners in the country. That meeting was full of energy and kicked off a series of meetings in Fresno and Los Angeles.
We held a community meeting with Alameda County Supervisor Keith Carson and other partners to get input on the proposed Community Advisory Board, which the Alameda County Board of Supervisors have been directed to form as part of the county's response to the historic prison Realignment process that has been underway for the past two years. Another one is planned with Supervisor Nate Miley on Nov. 5.
The planning for our regional economic summit on Dec. 7 is also well underway so that we can be ready to spark a movement to restore opportunities for those workers who have historically been excluded from the economy.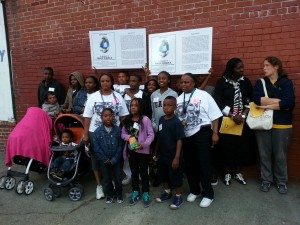 In September, our Lifelines night walks expanded into West Oakland so that we can continue our push to stop the gun violence in our city without sending more people to jail. Pastors and members from St. Patrick Catholic Church, Center Street Missionary Baptist Church, West Side Missionary Baptist Church, Faith Chapel Ministries, Mt. Zion Missionary Baptist Church, Taylor Memorial United Methodist Church, North Oakland Missionary Baptist Church and City Team Ministries all participated in the walk. The first walk paid tribute to the family of Roger Warrick, who was tragically gunned down in the same neighborhood where the churches participating in the night walk were located. For more information about the West Oakland night walks, contact Barbara at 510-639-1444, ext. 301
Excellent Education
In case you missed it, we played a big role in getting Mayor Jean Quan, OUSD Superintendent Gary Yee and Peralta Colleges to form a citywide Linked Learning partnership. This means that the entire city is committed to seeing that 80 percent of Oakland's high school students are into Linked Learning academies, programs that integrate rigorous academics with real-world job experiences. Check out the press release and the media coverage from the press conference we held to announce the citywide partnership.
Civic Engagement
Five bills that we supported this year along with our PICO California sister organizations all got signed by Governor Jerry Brown. The bills were: AB 60, AB 4 (the Trust Act), AB 218 (Ban the Box), SB 683 and AB 48. With these laws, aspiring Americans will be able to apply for driver's licenses and they'll have the right to live, work and worship without fear of being targeted based on race or immigration status; and formerly incarcerated individuals will be able to get access to quality jobs. This is a great victory!
We recently finished working with a coalition on a poll of Oakland voters to gauge their attitudes toward funding for public safety measures. The results were released on Oct. 18, and some of the findings included that:
60% of polled voters would support a ballot initiative that raises taxes to support increased policing, police reform measures and community violence prevention programs.
90% believe it is very important or extremely important that a public safety measure reduce gun violence and murders.
The measure should include the impact that evidence-based community programs, working with those most at-risk for committing as well as being hurt by crime, have on dropout and recidivism rates.
Check out the press release with the rest of the details.
Pathways to Citizenship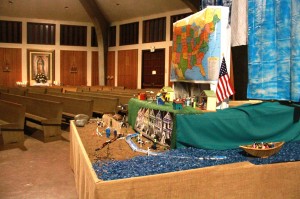 If you haven't had the chance, check out the altar for citizenship at St. Anthony's Church. The leaders there created the altar to provide a sacred space where people of faith who care about immigration reform could share their pain and be reminded of why they're organizing. Fr. Jesus Nieto-Ruiz, pastor at St. Anthony's, said the altar at will remain there until Congress passes an immigration bill.
OCO was well represented as we went to San Francisco to support the National Day of Action for Citizenship with other PICO Bay Area federations. Check out the video we did to recap the event.
Did You Know?
You can now register to vote right on the OCO website. Thanks to Rock the Vote, we have a tool on our homepage that allows you to become a registered voter in California. It's an easy 5-step process that only takes a few minutes.
Also, we're starting a photo project about Oakland and we need your help. Too often, we hear stories in the media that portray our city in an inaccurate way. The good thing is we have the power to change that narrative. So let's start showing that in photos. Have any photos that show great people who live here? Photos that show racial harmony? Great neighborhood businesses? Our different faith and cultural traditions? Send your photos to OCO communications specialist Martin Ricard at mricard@oaklandcommunity.org and he'll post them on our website and social media pages.
Upcoming Events
Nov. 1, 6:30pm: Ceasefire night walk, Allen Temple Baptist Church. Contact Rev. Damita Davis-Howard at 510-639-1440.
Nov. 5, 5:30pm: Community meeting on prison Realignment Community Advisory Board, Allen Temple Baptist Church. Contact Brandon Sturdivant at 510-684-1399.
Nov. 21, noon: Clergy Caucus, Victory Baptist Church. Contact Rev. Damita Davis-Howard at 510-915-2651.
Dec. 7, 9am-3pm: Work for All regional economic summit, Taylor Memorial United Methodist Church. Contact Brandon Sturdivant at 510-684-1399.