Today, the National Council on Teacher Quality (NCTQ) released "Teacher Quality Roadmap: Improving Policies and Practices in Oakland," an in-depth study that examines teacher quality policies and practices in the Oakland Unified School District.The study was commissioned by the Oakland Effective Teaching Coalition, a group made up of diverse organizations committed to helping Oakland's students succeed and its teachers be supported in the classroom.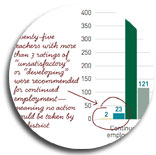 The Effective Teaching Coalition is comprised of Great Oakland Public Schools Leadership Center, Oakland Community Organizations (OCO), Youth Together, Youth Uprising, The Education Trust-West, SEIU Local 1021 and the Lawyers' Committee for Civil Rights of the San Francisco Bay Area.
Our coalition sponsored the NCTQ study so that an organization with an outside perspective could help collect the data, highlight important issues and increase awareness of ways to support effective teaching. While the NCTQ study does not include every possible solution, the Effective Teaching Coalition agrees the district should seriously engage with the data and the recommendations.
To view the study, please visit the Great Oakland Public Schools Leadership Center website.
Here are some reactions to the study from the Effective Teaching Coalition:
AMY FITZGERALD, EXECUTIVE DIRECTOR, OAKLAND COMMUNITY ORGANIZATIONS (OCO):
"We know that Oakland's children will do best when we work in deep partnership with their teachers to support their work in the classroom. The NCTQ study is an important addition to the conversation because it outlines some of the ways in which we can support our teachers. We look forward to working within Oakland to determine which solutions work for our community."
CELICIA CHEN, THURGOOD MARSHALL FELLOW, LAWYERS' COMMITTEE FOR CIVIL RIGHTS:
"Two years ago, the threat of massive teacher layoffs brought effective teaching into the forefront of the education conversation. This study is an opportunity for us to address issues that negatively impact Oakland's schools—from low teacher retention rates to lack of professional supports for teachers and low morale."
LISA HAYNES, DIRECTOR OF CAREER AND EDUCATION, YOUTH UPRISING:
"The Effective Teaching Coalition is working to create a respectful space for dialogue where educators, parents, youth, and community leaders engage to shape the work and path forward for our schools. With the NCTQ study and other valuable data, we hope to help our community take responsibility for better outcomes for our students and better support of our teachers."
ARUN RAMANATHAN, EXECUTIVE DIRECTOR, THE EDUCATION TRUST WEST:
"As a result of this report, we know that Oakland Unified must do a much better job of attracting, retaining and supporting a diverse teaching force and ensuring that all of our students have equitable access to effective teachers. The Effective Teaching Coalition is ready to play a role in supporting our students and teachers."
CHINYERE TUTAHINDA, ONE LAND ONE PEOPLE COLLABORATIVE DIRECTOR AT CASTLEMONT HIGH SCHOOL, YOUTH TOGETHER:
"We hope that this report will begin a dialog that includes students, parents, teachers, administration and community about what effective teaching looks like in Oakland. Ultimately, this is about the young people who are in Oakland classrooms everyday and we know this dialogue is neither the beginning nor the end of the conversation."
JONATHAN KLEIN, EXECUTIVE DIRECTOR, GREAT OAKLAND PUBLIC SCHOOLS LEADERSHIP CENTER:
"We hope the NTCQ study serves as a call to action for the community to work in support of effective teaching in Oakland and to actively play a role in helping our students succeed. Improving schools by supporting teachers will improve our communities, increase opportunities for residents, make our neighborhoods safer, and help our economy thrive."