This is part of the testimony from Mireya, an OCO leader, that will be shared at the immigration forum with Congresswoman Barbara Lee on March 26.
Fifteen years ago, my son, husband and I came to this country.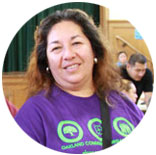 Over the years we have paid our taxes year after year. My husband and I are readers in our church. I am actively involved in my community in the fight against violence in Oakland, improving education, and in stopping the foreclosures so my neighbors don't lose their homes and there aren't any empty houses in my neighborhood. I supported the healthcare reform legislation.
My son attends San Jose State University. He was born in Mexico but knows more of the history and laws of the United States than those of Mexico. My 12-year-old daughter was born in the U.S. She plays the violin very well and was offered a scholarship to study music at a program in Berkeley.
This hasn´t been easy for me and it has taken some sacrifice. Some people think that immigrants want an easy path to citizenship but they don´t know our stories. They don´t know that my husband lost the three women who raised him: his mother, his aunt, and his grandma.
I've lost my grandparents and now my mother is lying in a hospital bed being fed through a tube. She has had three strokes which have severely weakened her physical and mental state. She cannot walk or talk, and can only move one eye and one finger. The doctors don´t know why she is still alive, but my sisters say it´s because she is waiting for me in order to say goodbye so she can be at rest.
There are millions of stories like this, some more painful than others. People have suffered sexual and other physical abuses when crossing the desert. Some people have had to drink their pee to survive the crossing. And once they arrive in this country many are abused by their employers. It´s for this reason that millions of us want to share our stories, to have our voices heard and come out of the shadows.
Congresswoman Barbara Lee, can you be our voice in Washington?
Despite all the hardships, we are grateful for this country because it has provided us with better opportunities than the countries we came from. That is why we want a pathway to citizenship in seven years.
Thank you Congresswoman Barbara Lee for listening to us.