As an Oakland community activist, I was ecstatic when I learned of the Friday night clergy walks.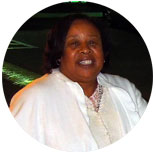 It is an important part of the Ceasefire program that was introduced to Oakland last year.  I was asked to get involved with one of the night walks right when the program was being reignited.
As someone who loves Oakland, I participated because of my want and need for a safer Oakland. I never knew what I could do other than "talk" about the need for reduced violence in Oakland. The night walks gave me an opportunity to feel like I was a part of the effort in a real way to make my beloved city safer.
The night walks are a way to let the community, victims and perpetrators know that we don't have to stand idly by and watch our city be destroyed by violence.  Clergy leaders in Oakland: all of Oakland is deeply concerned about this city where we live and worship.  We want to be clear that we care about our city and its citizens.  We know that many of our community members have felt like they have been let down and isolated, so we took steps to let them know that the clergy night walks are here for the long haul.
We even purchased rain ponchos so that we could be prepared for the long haul and so that people could still recognize us (we normally wear white Lifelines to Healing jackets, and people identify us as "the folks in the white jackets" because of them). Having those ponchos is also a symbol to our total commitment to Ceasefire in Oakland.  It is also a way to reassure the community that we are serious about reducing gun violence in Oakland.
Last Friday night, Nov. 30, was the first night that we needed to use the rain ponchos. Although our numbers were small, we made good use out of the ponchos! Eight Oakland clergy leaders walked our community in the pouring rain.  When it rains again, we'll make use of the ponchos again because we remain committed.
The violence must stop.