On paper, Claude Feaster IV would seem like he fits the description of one of the many voters who are not expected to head to the polls this election.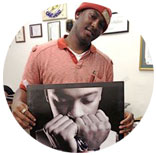 A high school dropout and a young black man, he most likely would seem like someone who wouldn't be engaged in this election.
But that assumption would be wrong.
Claude, 22, has been phone banking with OCO and getting others involved in the Prop. 30 campaign because he realizes that with so much at stake, it's important to get people to care.
Because of what he has been through in life, he knows that feeling. When he was in high school, he became disengaged with his education because he needed money and many of the teachers stopped caring—a result of drastic cuts to schools that stripped teachers of needed resources and decent salaries.
Claude saw a lot of his friends drop out of school as well and get sucked into the street life.
But he sees things differently now that he's trying to get his life back on track. He is back in school and getting involved in OCO's civic engagement campaign because he knows what's at stake not just for him but especially for his younger sibling, who is still in school in Oakland, and his older brother who is in the U.S. Army.
Lately he's been busy trying to persuade people that voting for Prop. 30 is important so that they can let their voices be heard—no matter what situation they come from or are currently going through.
"While I've been doing this phone banking, a lot of people explain to me that they don't care about politics because they feel like the people at the top are going to get the upper hand anyway—that it's going to go how they want it to go," Claude said. "But I tell them, 'Don't be mad if you made an attempt to make a change and things don't go your way. Then at least you have a voice. What's wrong with taking a risk? Don't be afraid to be different.'"